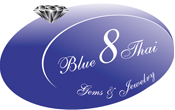 Terms & Conditions
These terms and conditions apply to the Blue 8 Thai site located at www.blue8thai.com. Please read these terms and conditions (the 'Terms and Conditions') carefully.
By using the site, you agree to be bound by these terms and conditions.

These Terms and Conditions govern your use of, and any purchase from, Blue 8 Thai's Official Site, and constitute an agreement between you and Blue 8 Thai.
Blue 8 Thai reserves the right to change or modify any of these Terms and Conditions or any policy or guideline of the Site at any time, and in its sole discretion.
Any change or modification will be effective immediately upon posting of the revisions on the Site.
Your continued use of the Site following the posting of its changes or modifications will constitute your acceptance of such changes or modifications. Therefore,
you should frequently review these Terms and Conditions and any other applicable
policies from time-to-time to understand the terms and conditions that apply to your use of the Site.
Incase of any kind of legal issue our jurisdiction is Bangkok,Thailand.